Two Earn JFK Scholarships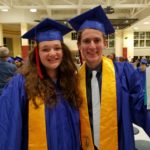 NATICK — Two outstanding Natick High School seniors have been awarded scholarships from the John F. Kennedy Scholarship Fund, on behalf of the Natick Democratic Town Committee.
The awards were presented at Senior Night to Mia Barr, who will attend Skidmore College in the fall and plans to major in sociology or history, and Benjamin Lyon, who will attend Weslyan University and plans to major in American Studies.
"We're delighted to present these awards to Mia and Ben," said Heidi Larson, chair of the scholarship fund. "They are excellent students, they are community-minded, and they have a bright future ahead of them."
The John F. Kennedy Scholarships have been awarded in association with the Natick Democratic Town Committee for more than 40 years. They reflect the spirit expressed by President Kennedy in an address to Congress in 1963: "The most direct, rewarding, and important investment in our children and youth is education." The scholarships go to students with a demonstrated interest in public service and government.